Major mag. 7.8 earthquake - 105 km SSE of Perryville, Alaska (USA) on Wednesday, 22 July 2020 - information
Update Wed 22 Jul 2020 06:35
Tsunami warning:
National Tsunami Warning Center issued a tsunami alert.
Tsunami Warning in Effect for: * SOUTH ALASKA AND THE ALASKA PENINSULA, Pacific coasts from
   Kennedy Entrance, Alaska (40 miles SW of Homer) to Unimak
   Pass, Alaska (80 miles NE of Unalaska)

For current updates, check
www.tsunami.gov
-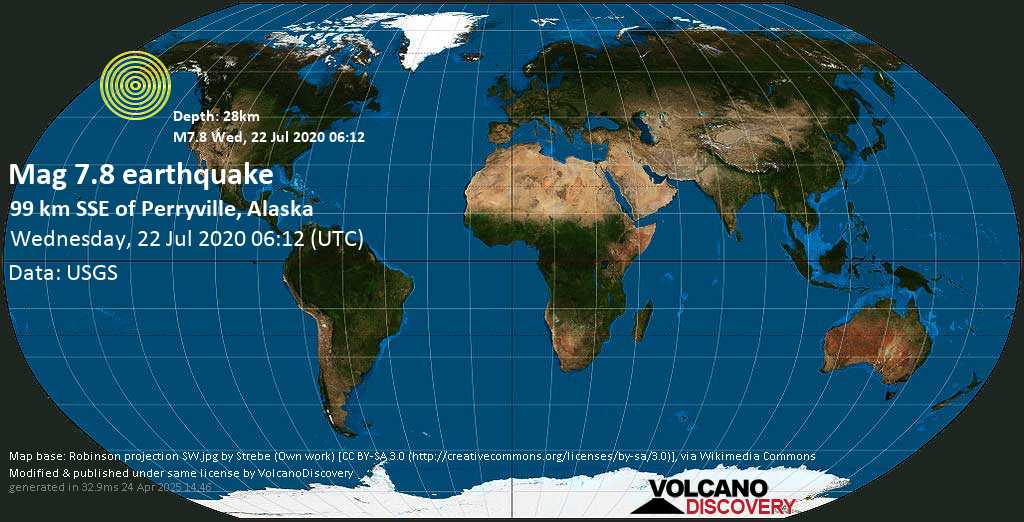 Schweres Erdbeben der Stärke 7.8 in 28 km Tiefe am 22. Jul 2020 um 06:12 GMT
22 Jul 06:21 UTC: Erste Meldung: USGS nach 8 Minuten.
Jul 22 06:30: Magnitude neu berechnet von 7.4 auf 7.8.
Erdbebenherdtiefe neu berechnet von 13.0 auf 10.0 km.
Erdbebenherdtiefe neu berechnet von 10.0 auf 28.0 km.
Datum und Zeit (Weltzeit): 22 Jul 2020 06:12:44 UTC -
Magnitude (Stärke): 7.8
Tiefe des Erdbebenherds: 28.0 km
Epizentrum geog. Breite / Länge: 55.0298°N / 158.5217°W
(Alaska,
Vereinigte Staaten
)
Nächstgelegener Vulkan:
Kupreanof
(116 km / 72 mi)
Orte und Städte in der Nähe:
106 km SSE von Perryville (Lake and Peninsula County)
(pop: 113)
130 km ESE von Sand Point (Aleutians East County)
(pop: 1,060)
137 km S von Chignik Lake (Lake and Peninsula County)
(pop: 73)
141 km S von Chignik (Lake and Peninsula County)
(pop: 87)
242 km E von King Cove (Aleutians East County)
(pop: 1,010)
485 km SW von Kodiak
(pop: 6,250)
736 km SW von Kalifornsky (Kenai Peninsula County)
(pop: 7,850)
1509 km W von Juneau
(pop: 32,800)
Primäre Datenquelle:
USGS
Geschätzte Erdbebenenergie: 3.2 x 10
16
joules (8784 gigawatt hours, equivalent to 7.6 x 10
6
tons of TNT or 472.4 atomic bombs!) [
mehr dazu
]
Erdbebendaten von verschiedenen Agenturen im Vergleich
Info: Je mehr verschiedene Agenturen das gleiche Beben angeben, desto verlässlicher sind die Daten und umso genauer kann man einen Mittelwert zu Magnitude, Tiefe etc ableiten. Es dauert normalerweise einige Stunden, bis die seismischen Daten präzise ausgewertet worden sind und die Angaben zuverlässige Präzision besitzen. Dies führt oft dazu, dass Magnitude und andere Daten in den ersten Stunden immer wieder nach oben oder unten korrigiert werden.
| | | | |
| --- | --- | --- | --- |
| Magnitude | Tiefe | Ort | Quelle |
| M 7.8 | 28 km | 105 km SSE of Perryville, Alaska (USA) | USGS |
| M 7.8 | 30 km | Alaska Peninsula (USA) | GFZ |
| M 7.8 | 30 km | Alaska Peninsula (USA) | EMSC |
| M 7.8 | 22 km | Alaska Peninsula (USA) | GeoAu |
| M 7.7 | 20 km | Alaska Peninsula, United States [Sea: United States] (USA) | INGV |
| M 7.6 | 26 km | Alaska Peninsula (USA) | BMKG |
Erfahrungsberichte von Nutzern zu diesem Erdbeben (56)
Nachbeben zum Stärke 7.8 - 105 Km SSE of Perryville, Alaska (USA), am Mittwoch, 22. Jul 2020 um 06:12 GMT
Mehr Infos dazu
Liste der Nachbeben, jüngste zuerst (568 Beben):
Earlier earthquakes in the same area since 1900
Schweres Erdbeben der Stärke 7.8 - 105 Km SSE of Perryville, Alaska (USA), am Mittwoch, 22. Jul 2020 um 06:12 GMT
Karte früherer Beben
Mehr auf VolcanoDiscovery