Strong mag. 6.3 earthquake - 51 Km Al NO De Quillagua (Chile) on Friday, 11 September 2020 - information
-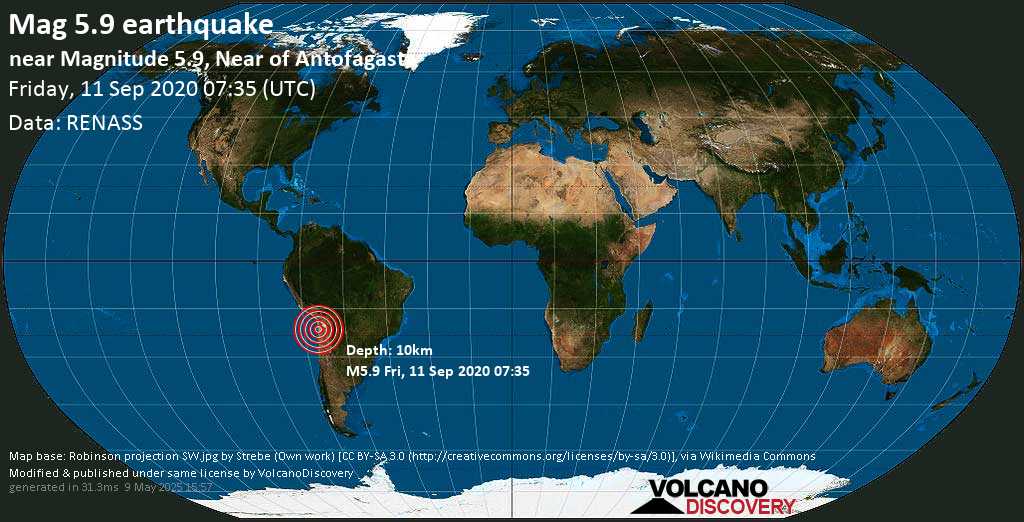 Strong magnitude 6.3 earthquake at 54 km depth
11 Sep 07:40 UTC: First to report: GFZ after 4 minutes.
11 Sep 07:42: Magnitude recalculated from 6.8 to 6.5. Hypocenter depth recalculated from 30.0 to 51.0 km (from 18.6 to 32 mi). Epicenter location corrected by 43 km (27 mi) towards E.

11 Sep 08:04: Hypocenter depth recalculated from 54.2 to 54.4 km (from 34 to 34 mi).
Update Fri, 11 Sep 2020, 08:15
3rd large quake within 14 days
Recent quakes above magnitude 6 in Chile (past 14 days)
Today's earthquake is the second within a week and the 3rd of the recent series of larger earthquakes along Chile's western coast, following the
magnitude 7 quake north of Huasco on 1 Sep
and the similar
6.3 quake near Tongoy on 6 Sep
.
This clustering suggests that currently, stress accumulated along the continental margin where the Pacific Nazca plate descends eastwards under the South American plate is currently being released along neighboring segments. As a conclusion, if this trend continues, one could expect similar earthquakes either to the south or to the north of this region in a near future.
Update Fri, 11 Sep 2020, 08:03
Reports have started to arrive, indicating that the quake could be felt as weak shaking in more than 250 km distance. Fortunately, there are no major towns in the most affected areas and there are no reports of injuries or damages so far.
This is how a surveillance camera recorded the quake at Iquique, approx. 137 km distant from the epicenter:
#Sismo #Iquique pic.twitter.com/kBrF4u5kqt

— Pau Towers Sepúlveda (@Paulysation) September 11, 2020
Earthquake data:
Date & time: 11 Sep 2020 07:35:56 UTC -
Local time at epicenter:
04:35:56 11 sep 2020
Magnitude: 6.3
Depth: 54.4 km
Epicenter latitude / longitude: 21.363°S / 69.907°W
(Tamarugal,
Tarapaca
,
Chile
)
Nearest volcano:
Aucanquilcha
(136 km / 85 mi)
Nearby towns and cities:
86 km (54 mi) NNE of Tocopilla (Antofagasta)
(pop: 24,500) -->
See nearby quakes!
130 km (81 mi) SSE of Iquique
(pop: 227,500) -->
See nearby quakes!
158 km (98 mi) NW of Calama (Antofagasta)
(pop: 143,100) -->
See nearby quakes!
260 km (161 mi) N of Antofagasta
(pop: 309,800) -->
See nearby quakes!
324 km (201 mi) S of Arica (Arica y Parinacota)
(pop: 186,000) -->
See nearby quakes!
374 km (233 mi) S of Tacna (Peru)
(pop: 280,100) -->
See nearby quakes!
441 km (274 mi) SSE of Ilo (Moquegua, Peru)
(pop: 53,500) -->
See nearby quakes!
474 km (295 mi) SW of Oruro (Bolivia)
(pop: 208,700) -->
See nearby quakes!
476 km (296 mi) WSW of Potosi (Potosí, Bolivia)
(pop: 141,300) -->
See nearby quakes!
592 km (368 mi) SW of Cochabamba (Bolivia)
(pop: 900,400) -->
See nearby quakes!
Primary data source:
GUG (U. Chile)
Estimated released energy: 1.8 x 10
14
joules (49.4 gigawatt hours, equivalent to 42502 tons of TNT or 2.7 atomic bombs!)
More info
Data for the same earthquake reported by different agencies
Info: The more agencies report about the same quake and post similar data, the more confidence you can have in the data. It takes normally up to a few hours until earthquake parameters are calculated with near-optimum precision.
| | | | |
| --- | --- | --- | --- |
| Magnitude | Depth | Location | Source |
| M 6.3 | 54 km | 51 Km Al NO De Quillagua (Chile) | GUG (U. Chile) |
| M 6.3 | 58 km | CHILE (Argentina) | INPRES |
| M 6.3 | 45 km | Tarapaca, Chile | EMSC |
| M 6.6 | 42 km | Northern Chile | BMKG |
| M 6.3 | 51 km | 83 Km NNE of Tocopilla, Chile | USGS |
| M 6.3 | 42 km | Northern Chile | GeoAu |
| M 6.2 | 46 km | Northern Chile | GFZ |
| M 6.3 | 20 km | Northern Chile [Land: Chile] | INGV |
| M 6.3 | 16 km | Northern Chile | USP |
| M 6.2 | 41 km | 349 Km Al Sur De Tacna, Tacna - Tacna (Chile) | IGP |
User reports for this quake (63)
Aftershocks
More info
Recorded aftershocks, latest first (242 quakes):
Earlier earthquakes in the same area since 1900
Hint: Click on Date/Time to show latest first

Date / time UTC

|

Mag

|

Depth

|

Age

|

Distance

| Details

01 Apr 2014 23:46

|

8.2

|

20km / 12mi

|

7 years ago

|

214km / 133mi

| South Pacific Ocean, 94 km NW of Iquique, Tarapaca, Chile

30 Jul 1995 05:11

|

8.0

|

46km / 28mi

|

26 years ago

|

223km / 139mi

| 36 km N of Antofagasta, Chile

13 Jun 2005 22:44

|

7.8

|

116km / 72mi

|

16 years ago

|

170km / 106mi

| Tamarugal, 103 km E of Iquique, Tarapaca, Chile

14 Nov 2007 15:40

|

7.7

|

40km / 25mi

|

13 years ago

|

98km / 61mi

| 36 km SE of Tocopilla, Antofagasta, Chile

03 Apr 2014 02:43

|

7.6

|

32km / 20mi

|

7 years ago

|

113km / 70mi

| South Pacific Ocean, 50 km SW of Iquique, Tarapaca, Chile

21 Dec 1967 02:25

|

7.3

|

45km / 28mi

|

53 years ago

|

56km / 35mi

| Tocopilla Province, 37 km NE of Tocopilla, Antofagasta, Chile

23 Feb 1933 08:09

|

7.2

|

35km / 22mi

|

88 years ago

|

99km / 62mi

| Iquique, 32 km S of Iquique, Tarapaca, Chile

14 Jun 1959 00:12

|

7.1

|

109km / 68mi

|

62 years ago

|

152km / 94mi

| Tamarugal, 136 km E of Iquique, Tarapaca, Chile

16 Mar 2014 21:17

|

7.0

|

33km / 21mi

|

7 years ago

|

182km / 113mi

| South Pacific Ocean, 67 km NW of Iquique, Tarapaca, Chile

22 Feb 1988 19:13

|

6.7

|

70km / 44mi

|

33 years ago

|

60km / 37mi

| Provincia del Tamarugal, 79 km SE of Iquique, Tarapaca, Chile

Show all
Map of earlier quakes