Schweres Erdbeben der Stärke 7.2 - Northern Sumatra, Indonesia am Sonntag, 09. Mai. 2010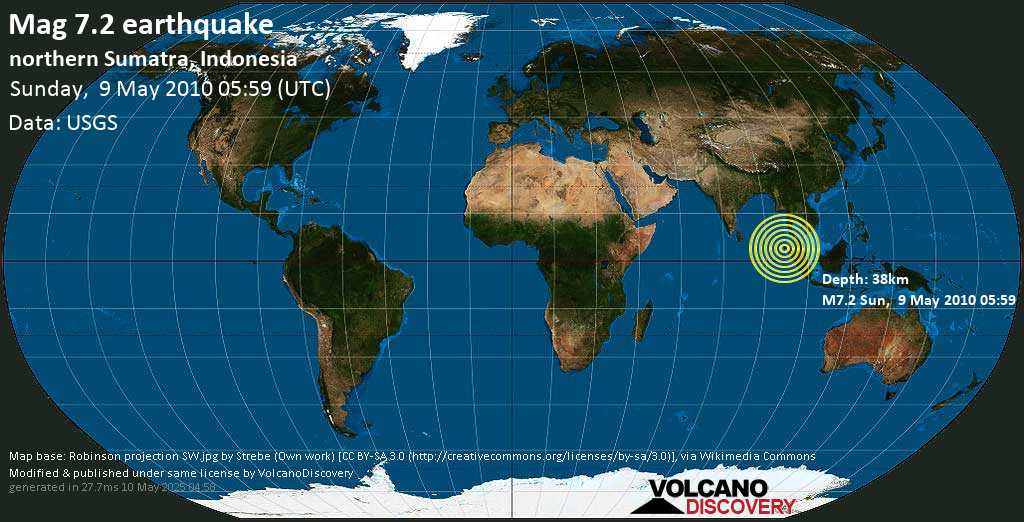 Schweres Erdbeben der Stärke 7.2 in 38 km Tiefe am 9. Mai 2010 um 05:59 GMT
Datum und Zeit (Weltzeit): 9 May 2010 05:59:41 UTC###AGESTRINGCOPY###
Magnitude (Stärke): 7.2
Tiefe des Erdbebenherds: 38.0 km
Epizentrum geog. Breite / Länge: 3,748°N / 96,018°E
(
Indonesien
)
Nächstgelegener Vulkan:
Gunung Telago
(120 km / 75 mi)
Orte und Städte in der Nähe:
46 km SSW von Meulaboh (Kabupaten Aceh Barat)
(pop: 35,100)
147 km NNW von Sinabang (Kabupaten Simeulue, Aceh)
(pop: 15,000)
166 km S von Reuleuet (Pidie Jaya, Aceh)
(pop: 40,400)
179 km SSW von Bireun (Kabupaten Bireuen, Aceh)
(pop: 25,800)
182 km S von Sigli (Kabupaten Pidie, Aceh)
(pop: 17,500)
203 km SW von Lhokseumawe (Aceh)
(pop: 89,000)
295 km W von Medan (Sumatera Utara)
(pop: 1,751,000)
1635 km NW von Jakarta
(pop: 8,540,100)
Primäre Datenquelle:
USGS
Geschätzte Erdbebenenergie: 4 x 10
15
joules (1106 gigawatt hours, equivalent to 9.5 x 10
5
tons of TNT or 59.5 atomic bombs!) [
mehr dazu
]
Erdbebendaten von verschiedenen Agenturen im Vergleich
Info: Je mehr verschiedene Agenturen das gleiche Beben angeben, desto verlässlicher sind die Daten und umso genauer kann man einen Mittelwert zu Magnitude, Tiefe etc ableiten. Es dauert normalerweise einige Stunden, bis die seismischen Daten präzise ausgewertet worden sind und die Angaben zuverlässige Präzision besitzen. Dies führt oft dazu, dass Magnitude und andere Daten in den ersten Stunden immer wieder nach oben oder unten korrigiert werden.
| | | | |
| --- | --- | --- | --- |
| Magnitude | Tiefe | Ort | Quelle |
| M 7.2 | 38 km | northern Sumatra, Indonesia | USGS |
Note: for quakes of 2012 and earlier, our database often contains only records from USGS.
Erfahrungsberichte von Nutzern zu diesem Erdbeben
Bisland gibt es keine Erfahrungsberichte zu diesem Beben.
Wenn Sie es gespürt haben oder in der Nähe waren,
berichten Sie als erster darüber
!
Try our free app!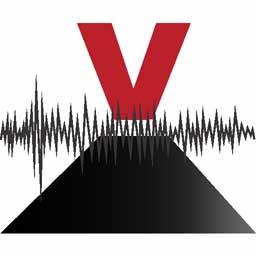 Nachbeben zum Stärke 7.2 Northern Sumatra, Indonesia am Sonntag, 9. Mai 2010 um 05:59 GMT
Mehr Infos dazu
Liste der Nachbeben, jüngste zuerst (104 Beben):
Earlier earthquakes in the same area
Schweres Erdbeben der Stärke 7.2 - Northern Sumatra, Indonesia am Sonntag, 09. Mai. 2010
Click here to search our database for earlier earthquakes in the same area since 1900!
Try our free app!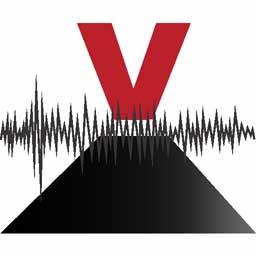 Mehr auf VolcanoDiscovery