Moderates Erdbeben der Stärke 4.3 - 80 km südöstlich von Sand Point, Aleutians East County, Alaska, USA, am Samstag, 27. Feb 2021 um 13:13 Lokalzeit -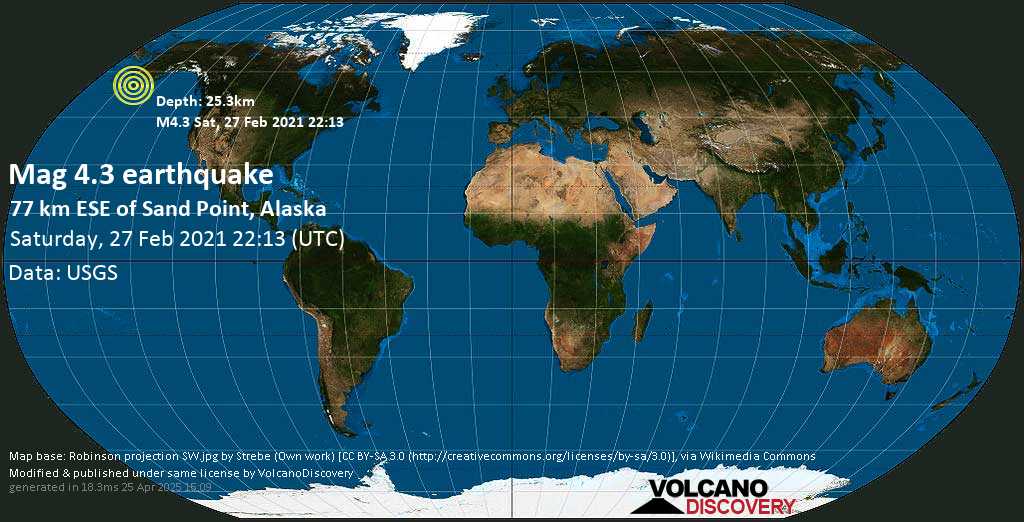 Moderates Erdbeben der Stärke 4.3 in 21 km Tiefe
27. Feb. 22:30 UTC: Erste Meldung: USGS nach 17 Minuten.
Update Sat, 27 Feb 2021, 22:36
Leichtes Erdbeben der Stärke 4.3 erschüttert Sand Point (Aleutians East County, Alaska), Alaska, USA
Moderates Erdbeben der Stärke 4.3 - County, 80 km südöstlich von Sand Point, Aleutians East County, Alaska, USA, am Samstag, 27. Feb 2021 um 13:13 Lokalzeit
Ein Beben der Stärke 4.3 ereignete sich nur vor 23 Minuten in der Nähe von Sand Point (Aleutians East County, Alaska) in Alaska, USA, wie der United States Geological Survey berichtete. Laut Angaben des Instituts, das als die wichtigste nationale und internationale Agentur für seismische Tätigkeit in den USA gilt, ereignete sich das Beben am Samstag, dem 27. Februar 2021, gegen Mittag um 13:13 Lokalzeit in einer geringen Tiefe von 21 km unter dem Epizentrum. Die Stärke, genaue Lage des Epizentrums und Erdbebentiefe können in den nächsten Stunden noch korrigiert werden, während Seismologen die Daten manuell auswerten und ihre Berechnungen verfeinern.
Eine zweite Agentur, das European-Mediterranean Seismological Centre (EMSC), gab das Erdbeben ebenfalls mit einer Stärke von 4.3 an.
Einige Orte in der Nähe des Epizentrums, in denen das Beben anhand von vorläufigen Schätzungen möglicherweise spürbar war, sind Sand Point (1,100 Einw. in 80 km Entfernung, sehr leichtes Vibrieren zu erwarten).
Wir werden diesen Artikel aktualisieren, wenn es wichtige neue Nachrichten gibt. Wenn Sie sich zum Zeitpunkt des Bebens in der Gegend befunden haben, bitten wir Sie, uns Ihren Erfahrungsbericht über unsere App oder Webseite zuzuschicken. Erfahrungsberichte aus erster Hand sind zum besseren Verständnis und zum Überblick der Lage von unschätzbarem Wert.
Earthquake data:
Datum und Zeit (Weltzeit): 27 Feb 2021 22:13:07 UTC -
Ortszeit am Epizentrum:
Samstag, 27. Feb. 2021 13:13 (GMT -9)
Magnitude (Stärke): 4.3
Tiefe des Erdbebenherds: 21.3 km
Epizentrum geog. Breite / Länge: 54.943°N / 159.4514°W
(
Alaska
,
Vereinigte Staaten
)
Nächstgelegener Vulkan:
Stepovak Bay 2
(114 km / 71 mi)
Orte und Städte in der Nähe:
80 km ESE von Sand Point
(pop: 1,060) -->
Erdbeben in der Nähe!
109 km S von Perryville
(pop: 113) -->
Erdbeben in der Nähe!
152 km SSW von Chignik Lake
(pop: 73) -->
Erdbeben in der Nähe!
163 km SSW von Chignik Lagoon
(pop: 78) -->
Erdbeben in der Nähe!
183 km E von King Cove
(pop: 1,010) -->
Erdbeben in der Nähe!
210 km E von Cold Bay
(pop: 123) -->
Erdbeben in der Nähe!
418 km ENE von Akutan
(pop: 1,040) -->
Erdbeben in der Nähe!
473 km ENE von Unalaska
(pop: 4,490) -->
Erdbeben in der Nähe!
526 km SW von Kodiak Station
(pop: 1,300) -->
Erdbeben in der Nähe!
537 km SW von Kodiak
(pop: 6,250) -->
Erdbeben in der Nähe!
Wetter am Epizentrum zum Zeitpunkt des Bebens:
Broken Clouds
3.1°C
(38 F), humidity: 78%, wind: 17 m/s (33 kts) from WNW
Primäre Datenquelle:
USGS
(United States Geological Survey)
Geschätzte Erdbebenenergie: 1.8 x 10
11
joules (49.4 megawatt hours, equivalent to 42.5 tons of TNT)
Mehr Infos
Erdbebendaten von verschiedenen Agenturen im Vergleich
Info: Je mehr verschiedene Agenturen das gleiche Beben angeben, desto verlässlicher sind die Daten und umso genauer kann man einen Mittelwert zu Magnitude, Tiefe etc ableiten. Es dauert normalerweise einige Stunden, bis die seismischen Daten präzise ausgewertet worden sind und die Angaben zuverlässige Präzision besitzen. Dies führt oft dazu, dass Magnitude und andere Daten in den ersten Stunden immer wieder nach oben oder unten korrigiert werden.
| | | | |
| --- | --- | --- | --- |
| Magnitude | Tiefe | Ort | Quelle |
| 4.3 | 21 km | 79 Km ESE of Sand Point, Alaska, USA | USGS |
| 4.5 | 26 km | SOUTH OF ALASKA, USA | EMSC |
Erfahrungsberichte von Nutzern zu diesem Erdbeben
Bisland gibt es keine Erfahrungsberichte zu diesem Beben.
Wenn Sie es gespürt haben oder in der Nähe waren,
berichten Sie als erster darüber
!
Try our free app!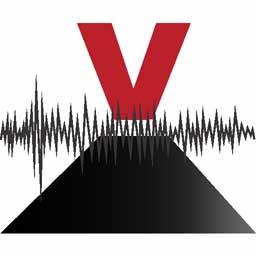 Earlier earthquakes in the same area since 1900
Hinweis: auf Datum / Weltzeit klicken, um nach Zeitpunkt zu sortieren.

Datum / Weltzeit

|

Mag

|

Tiefe

|

Alter

|

Entfernung

| Details

10 Nov 1938 20:18

|

8.2

|

35km / 22mi

|

vor 82 Jahren

|

85km / 53mi

| Gulf of Alaska, 47 mi NE of Simeonof Island, Aleutians East County, Alaska, USA

22 Jul 2020 06:12

|

7.8

|

28km / 17mi

|

vor 38 Wochen

|

60km / 37mi

| Gulf of Alaska, 31 mi E of Simeonof Island, Aleutians East County, Alaska, USA

19 Oct 2020 20:54

|

7.6

|

35km / 22mi

|

vor 26 Wochen

|

38km / 24mi

| Gulf of Alaska, 60 mi SE of Sand Point, Aleutians East County, Alaska, USA

31 May 1917 08:47

|

7.4

|

35km / 22mi

|

vor 104 Jahren

|

2km / 1mi

| Gulf of Alaska, 5.3 mi SW of Little Koniuji Island, Aleutians East County, Alaska, USA

04 Sep 1989 13:14

|

7.1

|

11.4km / 7.1mi

|

vor 32 Jahren

|

179km / 111mi

| Gulf of Alaska, USA

14 May 1948 22:31

|

7.1

|

25km / 16mi

|

vor 73 Jahren

|

118km / 73mi

| Gulf of Alaska, 55 mi SE of King Cove, Aleutians East County, Alaska, USA

30 May 1991 13:17

|

7.0

|

28km / 18mi

|

vor 30 Jahren

|

144km / 90mi

| Gulf of Alaska, 31 mi E of Cherni Island, Aleutians East County, Alaska, USA

04 May 1923 16:26

|

7.0

|

25km / 16mi

|

vor 98 Jahren

|

193km / 120mi

| Gulf of Alaska, 11 mi S of South Island, Kodiak Island, Alaska, USA

13 May 1993 11:59

|

6.9

|

32km / 20mi

|

vor 28 Jahren

|

69km / 43mi

| Gulf of Alaska, 11 mi S of Sand Point, Aleutians East County, Alaska, USA

17 Nov 1938 03:54

|

6.9

|

35km / 22mi

|

vor 82 Jahren

|

117km / 73mi

| Gulf of Alaska, 59 mi SW of South Island, Kodiak Island, Alaska, USA

Alle anzeigen
Karte früherer Beben