Michael volcano
Updated: Jun 8, 2023 02:54 GMT
-
Stratovolcano 990 m / 3,248 ft
South Sandwich Islands, UK, -57.78°S / -26.45°W
Current status: restless (2 out of 5)
Last update: 10 Dec 2021 (activity resumes; a thermal anomaly in the summit crater)

Michael volcano is a young and frequently active stratovolcano dominating the glaciated Saunders Island, located in the center of the South Sandwich Islands.
Mt Michael volcano has a 700 m wide summit crater that often contains a lava lake, but due to its remote location, most information is obtained by satellite imagery which often show a thermal anomaly at the crater.
Saunders Island was discovered by Cook in 1775 and named after Sir Charles Saunders, First Lord of the British Admiralty. The first landing on the island was probably in 1908 by C.A. Larsen. In 1937 an expedition from the ship Willian Scoresby landed in the area of Cordelia Bay.
Typical eruption style:
lava lake formation in summit crater
Michael volcano eruptions:
2016 (?), 2015, 2008 (?), 2006, 2001-03, 1995-98, 1823 (?), 1819
Latest nearby earthquakes
No recent earthquakes
Background
Symmetrical 990-m-high Mount Michael has a 700-m-wide summit crater and a remnant of a somma rim to the SE. Tephra layers visible in ice cliffs surrounding the island are evidence of recent eruptions. Ash clouds were reported from the summit crater in 1819, and an effusive eruption was inferred to have occurred from a north-flank fissure around the end of the 19th century and beginning of the 20th century. A low ice-free lava platform, Blackstone Plain, is located on the north coast, surrounding a group of former sea stacks. A cluster of parasitic cones on the SE flank, the Ashen Hills, appear to have been modified since 1820 (LeMasurier and Thomson 1990). Vapor emission is frequently reported from the summit crater. Recent AVHRR and MODIS satellite imagery has revealed evidence for lava lake activity in the summit crater of Mount Michael.
---
Smithsonian / GVP volcano information
Michael Photos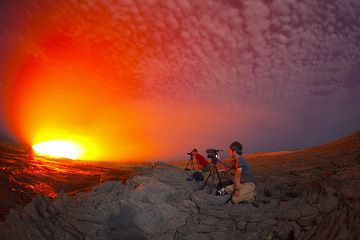 Two members from our group, Michel from Belgium and filmmaker Michael from Canada watching and photographing and filming the lava lake. The scene taken in extreme wide an...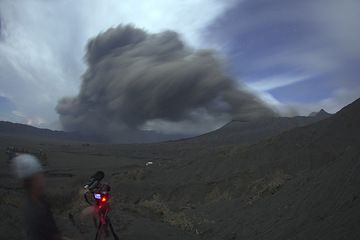 Michael filming the eruptions at night. (Photo: Tom Pfeiffer)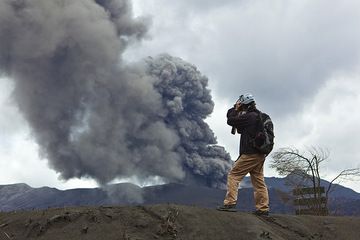 Filmmaker Michael at work for our upcoming documentary. (Photo: Tom Pfeiffer)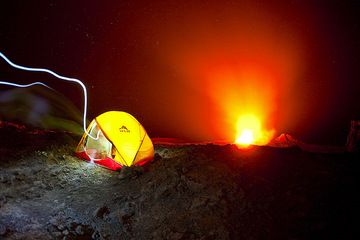 Michael's tent perched on the crater of active Erta Ale volcano with its erupting lava lake in the center of the crater. The light of a person with a flashlight walking i...





2008 activity
A thermal anomaly was detected on MODIS satellite imagery on 25 Oct 2008, suggesting a possible eruption.




2006 eruption - probable lava lake

ASTER satellite images from 28 October showed a strong hotspot at the summit crater, where a new lava lake had possibly formed.

...

more




1997 eruptions
14 volcanic plumes were detected at Mt Michael volcano by satellite in 1997.




1996 activity
39 volcanic plumes were detected on satellite images during 1996.




1995 eruption - lava lake
A lava lake was detected with satellite images between April-July 1995. This was the first time, a lava lake was found in the South Sandwich Islands. 20 volcanic plumes were detected on satellite imagery during 1995.


See also: Sentinel hub | Landsat 8 | NASA FIRMS