Ruapehu
Stratovolcano 2797 m / 9,176 ft
Nordinsel (Neuseeland), -39.28°S / 175.57°E
Aktueller Status: unruhig (2 von 5)
Last update: 18 Mai 2022 (Smithsonian / USGS Weekly Volcanic Activity Report)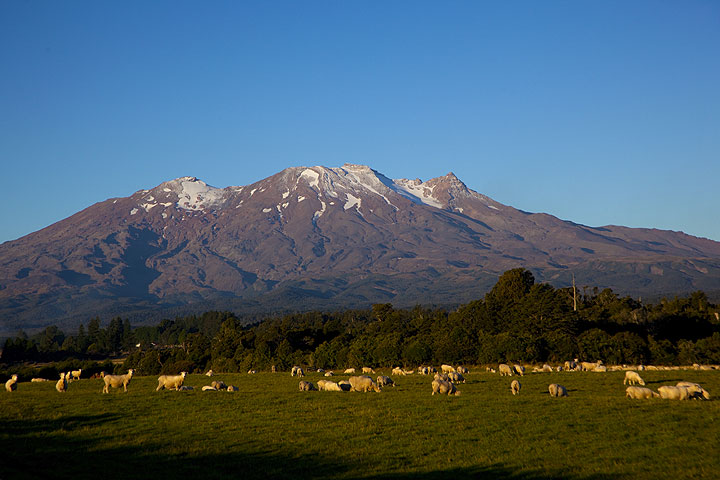 Ruhapehu volcano
Ruapehu is one of New Zealand's most active volcanoes and forms the highest peak of the North Island. The andesitic stratovolcano has an age of around 200,000 years and contains a large summit crater containing a lake. Eruptions from the vent inside the lake often cause the lake to drain and form dangerous lahars.
Typische Tätigkeit:
Mildly explosive, formation of lahars
Ausbrüche:
Letzte Erdbeben in der Nähe:
Zeit
Stärke / Tiefe
Entfernung / Lage
Montag, 16. Mai 2022 GMT (1 Beben)
16. Mai. 2022 19:28 (GMT +12)

(16. Mai. 2022 07:28 GMT)




1.4


20 km
35 km (22 mi)
81 km nördlich von Whanganui, Wanganui District, Manawatu-Wanganui, Neuseeland
Mittwoch, 11. Mai 2022 GMT (1 Beben)
11. Mai. 2022 14:27 (GMT +12)

(11. Mai. 2022 02:27 GMT)




1.2


28 km
34 km (21 mi)
100 km südwestlich von Taupo, Waikato, Neuseeland
Beschreibung
Ruapehu is a complex volcanic edifice constructed over several cycles and has a NNE-SSW elongated shape. The cone is surrounded by a large plain formed by debris from flank collapse and lahar deposits.
A series of very explosive (Plinian) eruptions occurred at Ruapehu between about 22,600 and 10,000 years ago. Since then, only one vent has probably been active, Crater Lake in the summit region. Activity in historic time consisted of mild explosive phreatic and phreatomagmatic eruptions often accompanied by lahars threatening the popular ski area on the volcano as well as structures in the surrounding valleys.
On 24th December 1953, a tephra dam holding in the crater lake failed passively, hence the lake drained to produce a catastrophic lahar that destroyed a rail bridge 42 km from the volcano, just as the Wellington-Auckland passenger train was crossing and fell into the valley, causing 151 fatalities.



Siehe auch: Sentinel hub | Landsat 8 | NASA FIRMS