Akuseki-jima

(Stratovulkan)

Akuseki-jima volcano is a small stratovolcano in the southern Ryukyu Islands, Japan. It forms the island of the same name, which measures 2.5 x 3.2 km in diameter and is surrounded by steep cliffs with beaches present only on the SW and SE sides.
Although no direct date e... [mehr]
Gajajima

(Stratovolcano)

[mehr]
Iriomote-jima

(submarine volcano)

Iriomote-jima volcano is a shallow submarine volcano 25 km NNE of the island of the same name.
Iriomote-jima island is the southernmost in the chain of the Ryuku Islands which still belong to Japan. It is located almost 1000 km SSW of Japan's main island Honshu and only 200... [mehr]
Iwo-Tori-shima

(komplexer Vulkan)

Iwo-Tori-shima volcano (also known as Okinawa-Tori-shima), forms a small 1x2,7 km island located north of the largest island of the Ryukyus, Okinawa.
Records of historical eruptions dating back to 1664 have consisted of mild-to-moderate explosive activity. Iwo-dake, the vo... [mehr]
Kikai

(caldera)

Kikai volcano is a 19 km large, mostly submerged caldera at the northern end of the Ryukyu Islands of Japan, located 45 km south of Kuyshu. It is one of the country's most active and most explosive volcanoes.
Satsuma-Iojima (or Tokara Iojima), a portion of the mostly subme... [mehr]
Kobi-sho

(Stratovolcano)

[mehr]
Kogaja-jima

(Schichtvulkan)

Kogaja-jima volcano forms a small island located NW of Nakano-shima, Ryukyu Islands, Japan.
It contains andesitic lava domes and it is not known if the volcano is still to be considered active or not, i.e. if there have been eruptions in the past 10,000 years.
Its na... [mehr]
Kuchino-shima

(Schichtvulkan)

Kuchino-shima volcano is one of the active volcanic islands in the northern Ryukyu Islands in southern Japan. The small, 3x7 km wide island is located between the volcanic islands of Nakano-shima and Kuchinoerabu-jima and consists of 2 andesitic stratovolcanoes and a NW-SE-trendi... [mehr]
Kuchinoerabu-jima

(Stratovulkan)

Kuchinoerabu-jima (口永良部島 本村西) volcano is one of the active volcanoes of the Ryukyu Island arc, Japan. The 4x12 km wide island is sparsely populated and located 15 km west of Yaku-shima.

All historic activity which consisted in frequent explosions recorded since 1840... [mehr]
Kuroshima

(Stratovolcano)

[mehr]
Nakano-shima

(Stratovulkan)

Nakano-shima volcano is a stratovolcano forming the 9 x 5 km island of the same name, which belongs to the Ryukyu Island chain in southern Japan.
The island is surrounded by coral reefs, but unlike older extinct ocean islands that sink and form reefs Nakano-shima's volcano ... [mehr]
Suwanose-jima

(Schichtvulkan)

Suwanose-jima (諏訪之瀬島) volcano is Japan's and one of the world's most active volcanoes. It has been in a state of near-continuous strombolian-type eruption since 1949.
The volcano forms the 8 km long spindle-shaped island of the same name in northern Ryuku Islands, Japan. T... [mehr]
Tokara Hirase

(Unknown)

[mehr]
Yokoate-jima

(Stratovulkan)

Yokoate-jima volcano forms the small, 3.5-km-long island with the same name and is located NW of Amami Oshima Island at the SW end of the Tokara island chain.
The only known historic eruption was in the first half of the 19th century. [mehr]
Mehr auf VolcanoDiscovery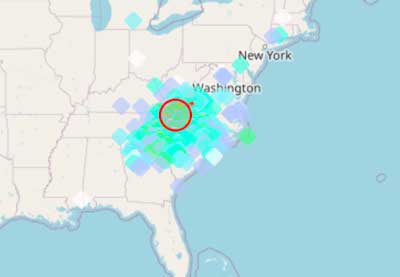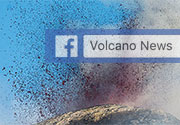 Volcano News Gruppe
: Treten Sie unserer Facebookgruppe bei, wo wir zum Thema Vulkane und deren Aktivität berichten und diskutieren.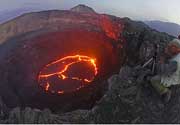 Desert, Salt & Volcanoes
: One of our best volcano expeditions! Stay 3 full days / nights at the active lava lake of Erta Ale, explore the wonders of Dallol and the Danakil desert in northern Ethiopia. 14 days expedition during Nov-March, small groups, guided by geologist.